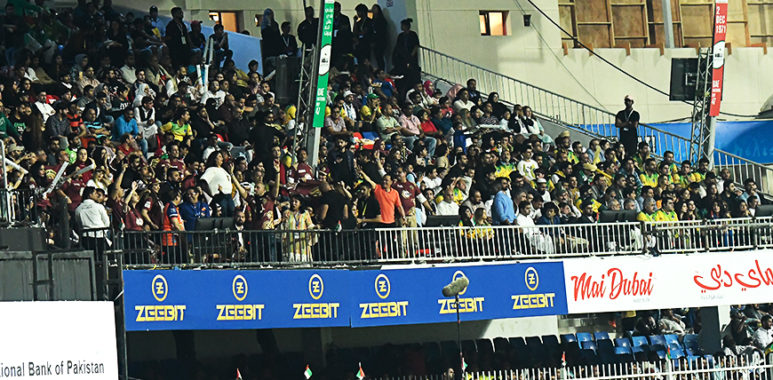 Big fans' turnout boost Sharjah stadium and T10 League
Sharjah: For the second successive year, cricket fans have turned up in large numbers to watch the T10 League matches at the Sharjah Cricket Stadium.
The historic stadium, which has regularly produced thrilling encounters, have also decided to revamp the stadium and reward the fans with excellent viewing facilities.
Speaking to Gulf News, Waleed Bukhatir, vice-chairman of Sharjah Cricket Club that owns the stadium, said: "T10 League has been well received by the fans. This stadium has not only a long history but also has an atmosphere that leaves an indelible memory in the minds of the fans. This is the reason that all formats of the game that have been played here including an experiment like T10 has proved to be hugely successful. We want to make our fans happy for encouraging cricket by turning up in large numbers."
Along with the plans of creating a museum showcasing all the thrilling matches here, the venue plans to become a tourist destination.
"Once the revamp is done, then tourists will be taken on a tour of the stadium. Abdul Rehman Bukhatir (who built the stadium to bring international cricket) will monitor the development plans," he said.
Shaikh Nahayan Bin Mabarak Al Nahayan, Minister for Tolerance and Chairman of the Emirates Cricket Board, who visited the stadium to watch the match on Friday evening responded to the cheers from a packed stadium by taking a parade of the ground and waving to fans.
The organisers of the league have scheduled the third edition for October next year with plans of more global promotion to widen the reach and popularity of the 10-over format.
Addressing the organisers, Nahayan said: "I want to assure you that the Emirates Cricket Board is with you and will do everything to support the T10 League and its future expansion worldwide."
Bukhatir went on to thank the spectators, especially the labourers that turned up in large numbers during the T10. "As the ground is walking distance for them and well located, the labourers can come easily. The number of sixers and runs that are scored here are a delight for them. It has also made all T20 League owners to opt for this stadium. The people who are employed in UAE want a good time out and want to enjoy seeing their national team's stars shine. "
Shaji ul Mulk, chairman of the T10 League, said: "UAE is a country where foreigners from 200 countries live, work and grow. T10 League has players from many countries and hence launching it here and creating an impact was easy."