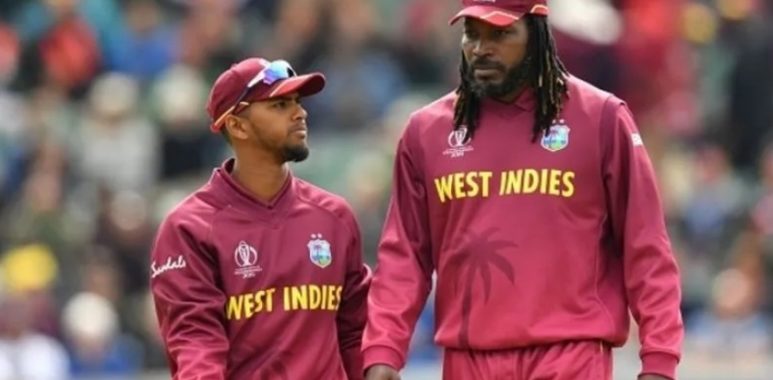 Chris Gayle sees Nicholas Pooran as probable heir apparent. "He is going to be even more dangerous!"
With 13584 runs, 22 centuries, and 85 50s under his belt, Christopher Henry Gayle is arguably the greatest T20 batsman in history.
It is a sentiment shared by his Kings XI Punjab teammate Mandeep Singh, who said as much after the pair powered KXIP to an eight-wicket victory over the Kolkata Knight Riders last October.
However, as the veteran opening bat soldiers on in the twilight of his illustrious career, he believes his successor is already on the scene waiting to assume the mantle of greatest T20 player.
Gayle, who turned 41 last September, believes Nicholas Pooran, a player who KXIP Coach Mike Hesson described as the "young Gayle" back in 2019, possesses all the tools to be the heir apparent.
Pooran, who was Gayle's KXIP teammate last season, impressed while scoring more than 350 runs in 14 matches during the 2020 IPL. And while he has not set the world alight for the Melbourne Stars in the ongoing Big Bash League, Gayle believes the 25-year-old Trinidadian is well on his way to becoming a great player.
"He is a bright prospect. He has a bright future ahead of him," Gayle told Sportsmax.TV on Saturday while he was in attendance at the launch of Olympian Michael Frater's cannabis dispensary in Kingston.
"He is going so well, had a great IPL, beautiful striker of the ball, super, super talented guy."
While acknowledging that Pooran is not yet the finished product, Gayle said the signs are there that he is getting better.
"His batting is improving. He is getting better and better. I think he is getting to know his game, how to build an innings, which is very important; how to take down whichever bowler at any particular time. Once he can master those things as quickly as possible he is going to be even more dangerous," Gayle said while revealing that the Trinidadian star, possesses other important traits as well.
"We play together and we talk and he is a guy who never shies away from asking a question and he likes to talk about cricket as well.
"He is never shy to ask and learn and tries to improve on his mistakes. He seeks advice, which is good. I like that about him," Gayle concluded.
Credits: Sportsmax