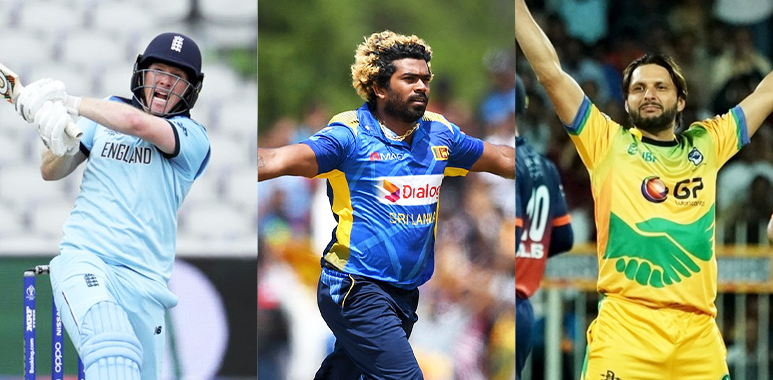 Morgan, Afridi, Malinga set for Abu Dhabi T10 League
The T10 League caravan, in its third year, has moved from Sharjah to the Capital. All the matches of Abu Dhabi T10 will be played at the Zayed Cricket Stadium from November 15 to 24.
And the cricketing extravaganza, for the first-time ever, is supported by Abu Dhabi government entities – Department of Culture and Tourism, Abu Dhabi Sports Council and Abu Dhabi Cricket.
At a well-attended press conference, officials named first batch of star-studded players line-up led by England's World Cup-winning captain Eoin Morgan, Pakistan's Shoaib Malik and Shahid Afridi, Australia's Shane Watson, Sri Lankans Angelo Mathews and Lasith Malinga and West Indians Kieron Pollard, Darren Sammy, Andre Russell, Sunil Narine and Dwayne Bravo.
There are some 200 players confirmed so far and more will be confirmed by mid-September when the draft of teams will be ready, T10 League chairman Shaji Ul Mulk said.
He noted approvals have been sought from cricket boards of Pakistan and Bangladesh to release players and he was hopeful of a positive response.
"Players from India and other boards will also be part of this League," he said.
As of now, there are eight teams in fray: Kerala Knights, Bengal Tigers, Northern Warriors, Pakhtoon, Deccan Gladiators, Punjabi Legends, Maratha Arabians and Rajputs. The names of players, teams and telecast rights etc will be confirmed by next month.
Abu Dhabi Cricket CEO Matt Boucher highlighted the important aspect of government partnership.
"This is a five-year deal. We are here to stay and deliver one of the best sporting events in the world," he said.
Saeed Al Saeed, Director of Destination Marketing at the DCT – Abu Dhabi, said the capital is trying to expand its offering.
"The excitement of this format and the opportunity to grow the cricket fan base as a sport made us enter into such a partnership. The specific format of play made sense for us to bring this League here," he said.
Meanwhile, Mubashshir Usmani from Emirates Cricket Board said the T10 League will help prepare the UAE players for bigger stages.
"We are an associate nation. Such tournament gives exposure to our players. This can also prepare them for bigger matches, like we are hosting ICC T20 World Cup qualifier in October. Hopefully when we qualify for the World Cup in Australia next year such tournaments like T10 League will help in that preparation. So this is a good initiative to give opportunity to youngsters in the UAE," he said.
Players are keen on the T10 format and comparing it to his England team's recent success on the World Cup.
"I heard from a lot of parents that this year's ICC Cricket World Cup was the first one they could enjoy with their sons or daughters. Kids are discovering the joy of cricket all over again. Well, the T10 is brilliant for bringing kids and first-time fans into the stadium, where you've got all the stars, all the action and all the glamour you could hope for. It's just brilliant for the future of cricket all around," he said.
Former West Indies captain Sammy, echoed similar views. "Abu Dhabi is a fantastic choice to host the T10. There's a mixed audience with plenty of support for cricket. Everything is top-class, so I've no doubt the Abu Dhabi T10 will be a smashing success," he said.
The 10-over format will be 45-minute per side, which makes it 90 minutes of action-packed evening.