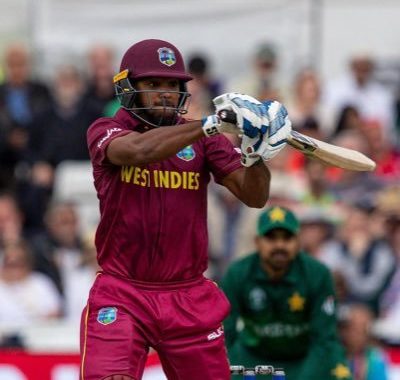 Nicholas Pooran: 'West Indies' T20I ranking doesn't show how good our team actually is'
Nicholas Pooran has shouldered a heavy workload in the last six months. He played in the CPL in August and then flew to UAE for the IPL in September. In November, he was in New Zealand with the West Indies A team. Christmas and New Year's was in Australia at the BBL, and he will soon be back in the UAE for the Abu Dhabi T10 League, where he will captain Northern Warriors. Pooran, in fact, would've played more cricket if he hadn't opted out of the ODI tour of Bangladesh later this month. In this chat, Pooran talks bio-bubbles, his personal – and West Indies' – aspirations for 2021, the role of batsmen in T10 cricket, and why he chose to not go for the Bangladesh ODIs
There's a perception that West Indies cricketers have saved international and franchise cricket in 2020. But that comes with bubble life and plenty of sacrifices on a personal level. One can say you're one of the experts of this new life that cricketers must lead. How has it been?
First of all, the bubble life is extremely difficult, to be honest. I am currently in my fifth month in a row hopping from bubble to bubble. It's especially difficult being away from friends and family. As a cricketer, you appreciate the bubble because your focus is all about the game, how to get better, but if you're not performing as a sportsperson and in the bubble, then you need to get out, have a drink, have a laugh, catch up with others. There are positives and negatives of being in the bubble.
I learnt a lot about myself because in the last six-seven months, I wasn't too sure if we'd play cricket again in 2020. And here I am five months after in 2021, five months in the bubble, and I am just trying to appreciate every single match. Eight months ago, I really wasn't sure when I'd play cricket again. And now I am looking to just take advantage of these moments and looking to enjoy playing as if it's my last game.
How do you spend time alone, in your own company? Is there anything new you've discovered about yourself?
I've just been reading books. I'm reading a lot, trying my best to get better not only in cricket but other aspects of life … like my intellect. There's not much else you can do. My focus at the moment is to get better at the game, so I'll spend a lot of time on my iPad looking at videos, doing homework on my game, looking at other batsmen, what they do to be successful, watch interviews. That's the most, I think, I can do.
Why did you, in particular, opt out of the Bangladesh ODIs set to start mid-January? Was it because of the burnout, the bio-bubbles or something else?
It's not at all about pulling the plug on cricket or wanting a break, but about the health factor in Bangladesh. As a player, I wasn't sure, was a bit sceptical of the health situation there. Because other players weren't going either, I felt I didn't have to take the risk and Cricket West Indies were understanding and gave the players the benefit of the doubt. What I'll be doing when West Indies play the ODIs is not be involved in any other cricket. I'll be watching the ODI series from home.
Who are you excited to watch in those Bangladesh ODIs, given so many withdrawals allow some new faces to have a crack at international cricket?
I have a couple of names. Kyle Mayers, Kjorn Ottley, Akeal Hosein and even Jason Mohammed. These are guys that can do really good. Looking forward to seeing them tackle this challenge in Bangladesh. Bangladesh plays very well at home, but these guys are good enough and it's a great opportunity for them, which they should look to grab.
The T20 World Cup is scheduled later this year in India. What are your – and West Indies' – aspirations for that event?
Personally, I am looking forward to the T20 World Cup. As a team, our strength is T20s. For the last couple of years, we've been doing good in World Cups, but as a team where we are ranked [10th], it doesn't show how good our team actually is. Most of the senior guys are coming back to the West Indies team … like Kieron Pollard, Dwayne Bravo, Andre Russell and Sunil Narine are all coming back eventually. As a player, I am especially excited because I want to do good for the West Indies people and put a smile on their faces. My record for West Indies in T20s isn't that good and I want to improve that for the next couple of months.
Can you pinpoint why the rankings aren't reflective of how good, as you just said, West Indies cricket is?
I just believe that most of the series West Indies play, they don't play with their strongest team. And by strongest I mean Chris Gayle, Pollard, Russell, Narine, Bravo in the team together. In the last couple of years, we haven't witnessed these players together. Either most of them weren't selected, some were unavailable … but definitely a case around that. We couldn't play as a team after the last T20 World Cup. This, I am saying from a player's and a fan's point of view. Not seeing some of my favourite players represent West Indies might be one of the reasons.
You were one of the breakout stars of the T10 format, top-scoring in the Abu Dhabi T10 League in 2018 even, and this season will be captain at Northern Warriors. When it comes to batting in T10 cricket, does the tradition role of a 'top-order' or 'middle-order batsman' exist? Or are all the batsmen – from Nos. 1 to 7 – simply … 'batsmen.'
No, I feel there are different roles. If you lose your openers in the first or second over, then the middle order needs to come into play. I wouldn't expect them to come out and take risks that are not required, and yes, it's only 10 overs, and your strike-rate needs to be in the 150s or 160s, but if you keep going hard at the bowlers, then there's a chance of losing a lot of wickets.
So it's just like 50 overs or T20s, you need to rebuild, but in this case you can rebuild only for one or two overs, so I do feel there's a middle-order and it's very important to a team's success in T10. Especially when you play in bigger grounds.
Spending so much time in the UAE for the IPL, then, will be very helpful as you approach the T10 tournament?
The first two years of the T10 was – in Sharjah – everyone had high strike-rates. In a small ground like that, even edges went for six, but in Abu Dhabi – where we will be playing now – you can't come out and play a big shot and hope it goes for six. It's difficult. So you need to get yourself in as well in T10, more so in Abu Dhabi because of the ground sizes.
After this IPL, we saw that the new ball is especially effective in Abu Dhabi. If you're going to get wickets, you will get it with the new ball. The ground is obviously bigger so you need to hit the gaps, try to run your twos. If you mistime your ball, you will get out, which doesn't happen in smaller grounds like Sharjah.
It's also the first time you'll be captaining a franchise. There's a theory that certain players fare better when they aren't burdened with captaincy while certain players thrive under the extra responsibility. Where do you stand on that debate when it comes to you?
First I consider myself as a player in a team. And in franchise cricket, a lot of decisions, like choosing a captain is about trust and communication. I can't say if I'll be a captain of other franchises, but if they see me fit that I am ready to lead whatever team … it's no problem.
I always see myself as a leader on and off the field. If things aren't working out and I have to make a decision where leadership is not for me, I'll own up and take that decision. But for now it's a challenge I am always willing to accept.
As a globetrotting cricketer, I'm sure you can discuss batting with many great players. But do you discuss tactics with people too? Who is your go-to person to discuss cricket beyond just batting?
I am very close to Pollard. I think he is one of the best T20 players in the world. He has played the most T20 games, so I discuss tactics with him. I try to model my game around him. I discuss field settings, bowling options, bowling changes, where bowlers should bowl to certain batsmen according to the game's situation. I also have played enough T20 cricket to understand what is required at a particular stage of the game.
Nicholas Pooran was speaking at an interaction facilitated by Abu Dhabi T10 League team Northern Warriors.
Credits: Espncricinfo