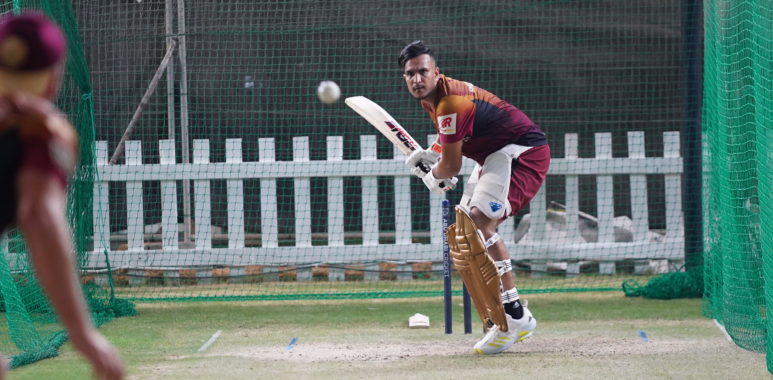 UAE's Umair Ali hits sixes off stars like Faulkner and sparkles as an all-rounder in T10
Abu Dhabi T10 has always provided the stage for UAE cricketers to display their skills. Many of them have utilized this platform to shine in front of international cricketers. It has also helped many to learn from renowned cricketers by being part of the different teams. In this edition, Umair Ali stood out as an all-rounder representing Northern Warriors.
Umair Ali was the top scorer for Northern Warriors with an unbeaten 39 against Bangla Tigers on the December 2 match of the Abu Dhabi T10 at the Zayed Cricket Stadium. Although his team lost the match by 30 runs, he stood between the Tiger's win by defying their strong attack. Ali, who has not been considered to play for the UAE after playing two One Day Internationals and two Twenty20 Internationals in 2015, showed that he is good enough for a recall into the UAE team.
Ali was picked by Northern Warriors due to his consistent performance in the Emirates Cricket Board's D10 tournament where he bagged the Man of the Match five times and thus caught their attention. Thirty-five-year-old Ali continues to maintain his fitness and carries his dream to return to the UAE team again.
This Karachi-born cricketer had never imagined that he would get an opportunity to hit Australian left-arm pacer James Faulkner for sixes. He did that in the match against the Tigers. In the eighth over of the match, he came down the wicket and lifted Faulkner over long-on and two balls later he pulled him for another six. He had also pulled Sri Lankan left-arm pacer Isuru Udana for another six. In another match, he was unbeaten with 13 against Abu Dhabi with two sixes. He had hit West Indies pacer Fidel Edwards for two sixes in the last over.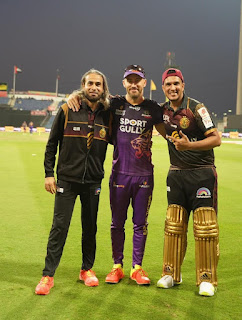 "I am waiting for my turn to be recalled to the UAE team. I am utilizing all chances that come my way to prove that I am still good enough. Northern Warriors is very happy with my performance. I am thankful to team owners Mohomed Morani and Shabaz Elias for giving me this opportunity to play in theT10," said Ali, who has also picked wickets of top players like Johnson Charles, consistent Rahmanullah Gurbaz, experienced Ravi Bopara, and Jamie Overton.
Ali, who works as Logistic Officer with Gulf Petrol Supplies, is also thankful to his employers. My company CEO Khamis Al Khadeem and commercial manager Ahmed support my dream to keep playing and allow me to play the game. I play for the Future Mattress team in domestic matches and my team owner Adil Mirza provides me with big support. My team captain is Rohan Mustafa and he guides me like a brother and gives me ample opportunities," remarked Ali, who arrived in UAE in 2000 and has been knocking at the doors of the UAE team with consistent performances.
"In the last edition of the ECB D10, I performed very well by winning five Man of the Match awards. Playing with Northern Warriors has boosted my confidence and has helped me learn a lot too. All senior players like Moeen Ali have been very helpful and guided me a lot. I was thrilled when top players, whom I have only seen on television, came and congratulated me. I never imagined in my life that I would get the opportunity to hit sixes off the Australian, Sri Lankan and West Indies bowlers one day. I was thrilled from the time I became the first pick among the UAE players during the draft. I am happy I have lived up to their expectations," says a confident Ali. "I will continue to play my natural game, produce more match-winning performances and one day come back strongly into the UAE team," he added.
Credits: K.R. Nayar